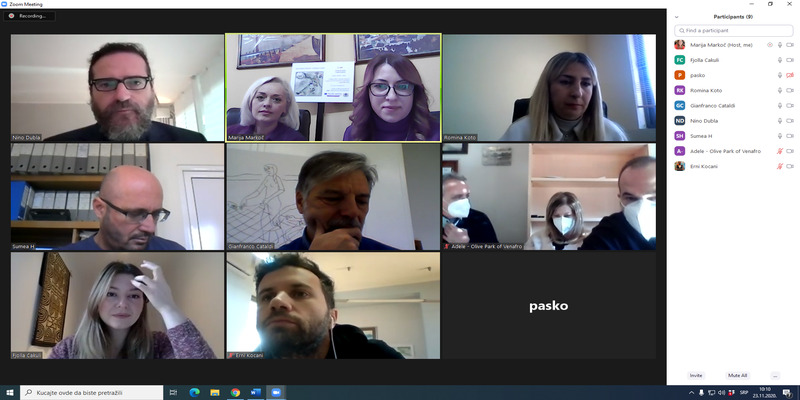 4th Steering committee meeting, managed by Bar Municipality Montenegro.
Overview
Interreg_CROSS Border OLIVE team met online for the 4th #steeringcommittee meeting, managed by Comune di Bar, #Montenegro.
Instead in Bar Montenegro, partners from Bar, Ulcinj, Bari, Venafro and Tirana met online via ZOOM platform. Project Cross Border OL is prolonged due to pandemic situation and will be finalized in March 2021.
Related to the influence of COVID-19 situation, many field missions and visits were cancelled and all the specialists in project countries were obliged to work online, with delays in many items.
The discussion focused on the managing and financial aspects and the main results achieved in the project:
Local maps of #olivegroves in #Montenegro (Bar and Valdanos), #Italy (Venafro) and #Albania (Ndroq, Preze and Marikaj);
Measures taken to carry out the Common Resource map of #AOOs;
#CBSMART and Sustainable #TouristActionPlan.
#CrossBorderOlive project is funded by by Interreg IPA CBC Italy-Albania-Montenegro
#Interreg_CROSS #CrossBorderOl #ancientolivetree #crosborderproject #crosborderol #crossborderoliveproject